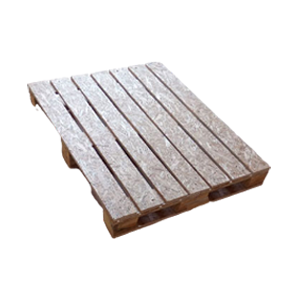 What is oriented strand boards:
OSB is a versatile engineered wood panel that is made with waterproof, heat-cured adhesives and wood strands that have a rectangular shape and are arranged in cross-oriented layers. It is quite identical to plywood with some common similarities. Wood strands that are between 8 and 15 centimeters long are used in making oriented strand board (OSB). It makes use of the tree in entirety and trees that are twisted, knotted, and otherwise unusable. OSB is made from ample of small-diameter poplar and aspen trees. They are combined as strands with waterproof resin, interwoven into thick mats and then bonded together with heat and pressure. Building panels with improved features, high strength, and high resistance to water are the end result of manufacturing OSB products. OSB has appropriate mechanical properties that are best suited for load bearing applications mainly in construction business. These boards are less expensive than plywood. These boards have no internal gaps, yet these are not recommended for use on the exterior side, even though they can be water resistant.
Request A Quote
Our Methodology :
We at Aman packaging solutions, are the manufacturers and suppliers of best quality OSB. These Boxes are designed in such a way that they can be easily cut, drilled, and nailed without the need for complicated techniques or difficult-to-make joints. We are actively driven in producing and supplying high quality boards to our customers. Our diligent staff are always ardent to produce high quality boards to be supplied to our customers. We have made it a practice to hold interactive sessions with our customers, to understand about their requirement ,to brief them about our way of manufacturing the boards. This way the confusion gets avoided and a transparency gets maintained between both the parties. Our concepts related to trading are very economical and client receptive. Our production schedule is arranged in a manner that we are able to make timely delivery of the products to our customers with the help of modern infrastructure facilities and the use of latest technology methods. We make it a point that all our production is made as per the standards and norms prevalent in the industry for the production of strand boards.
Advantages:
There are a number of advantages associated with the strand boards which can be highlighted as under:
The OSB or the boxes have a high strength-to-weight ratio that makes it perfect for constructional use.
The oriented strand boards are easy to assemble that makes it easy to put the required materials together to form a long lasting strand board.
The wood used to make the boards is of such a quality that it can be modified into different shapes, sizes, style to suit the requirements of the user.
It can be used as both structural and non-structural members without compromising its strength or durability.
These boards are stronger than any other materials specifically related to wooden construction.
For uses like sub-floor and wall sheathing the use of oriented boards is rated equivalent to the use of plywood and hence , it has cheaper manufacturing cost.