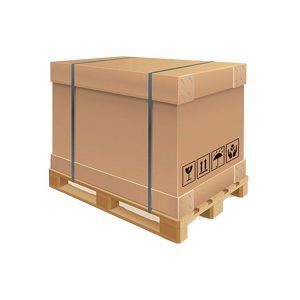 What is a corrugated box:
Heavy duty corrugated boxes are made up of corrugated board with double / triple walls, these can also be made of foam, plastics, polystyrene, plywood. Heavy duty corrugated boxes are generally used in shipping, retail packaging and other applications. Even though these boxes are light weight, they are strong and sturdy. Heavy packaging is typically used for large products, fragile products and high value products. These type of boxes are made in a manner that provides extreme level of protection to the goods packed at the time of transportation. These boxes provides a cost effective and environment friendly alternative to traditional timber or metal packaging and these can be recycled easily. These are widely used for packaging across various industries.
What is a wooden pallet:
A wooden pallet can be described as a flat wooden formation which is used for supporting and transporting materials in a steady manner. This materials or products are lifted by a forklift, a jack, a crane and placed safely on these wooden pallets. Our range of heavy duty wooden pallets is perfect for movement of materials that are to be transported from one place to another. The main material used in the manufacturing of wooden pallets is high grade wood which can be procured only from quality vendors. Pallets provide essential protection against shocks and vibrations that are common during the movement of heavy products. These are extremely versatile in nature, it means, even after the desired use, these can be utilized for other purposes. They have the capacity to withstand even in harsh atmospheric conditions.
Advantages:
Certain benefits of wooden pallets can be highlighted in the below manner:
Quick loading and unloading: With the help of wooden pallets, easy and faster loading and unloading exercise can be done. The time of arrival and dispatch can be handled in a better manner.
Minimum labour: The process of storage and transportation can be mechanised with the use of wooden pallets and hence the requirement of manpower and problems linked with get reduced.
Workers are safer: Since the workforce required is low, the possibility of workers getting injured is much lesser.
Standardisation: Since the pallets have pre-determined and standard sizes the movement of these pallets becomes easy, and this makes the exercise of transportation simple.
Aman packaging solutions is one of the leading manufacturer and supplier of corrugated boxes and wooden pallets. We have framed up a mission for ourselves to produce best quality products and to serve our customers in a rightful manner so that our name gets carved in the memory of our clients for a prolonged period. Since we are passionate about providing our customers with the greatest value for their money, we have laid down decent business policies and proper methods. We have mastered ourselves in framing economical and client receptive approach which becomes beneficial to both the parties. Our team of workers are always determined to work in a planned set up so that our orders get completed within the scheduled delivery time.
Request A Quote